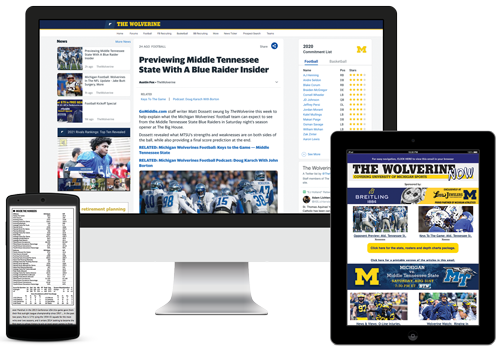 The Wolverine Now, a twice-weekly e-newsletter for subscribers of The Wolverine, has everything you need to know before and after the game!  This online publication is INCLUDED with your subscription to The Wolverine Magazine!
2019 Edition Of The Wolverine Now
If the film "Groundhog Day" happened to have been put in the hands of Wes Craven or another horror film director, it might have looked like this. Ryan Day's Buckeyes made it a nightmare once again, this time 56-27 in front of 112,071 fans, way too many of them clad in scarlet.
Everything you need to know for The Game Saturday at noon between Michigan and Ohio State!
The Michigan Wolverines and Indiana Hoosiers rolled out their version of Frozen Too amid the snow at Memorial Stadium. Only the Hoosiers sank after hitting the iceberg.
Jim Harbaugh's red-hot football team rolled up a 39-14 win, blazing by IU in a firestorm of touchdown passes and abundant heat on Indiana's quarterback.