The recent Apple update for iOS 17 created a conflict with the coding of our newsstand app for The Wolverine magazine. Based on a number of factors, we are discontinuing our support of this custom app, effective Dec. 1, 2023.
All Apple App Store subscribers are eligible to have the balance of their subscriptions fulfilled with the online edition of The Wolverine that is readily available and viewable in a flip-book format via computer, tablet or smart phone. All other app users can directly access the digital edition immediately on this site (*see login instructions below).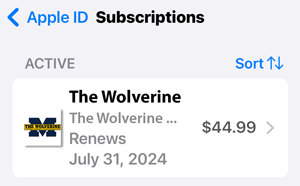 Apple App Store Subscribers:
If you subscribed directly through the App Store, we apologize for this inconvenience! To receive the balance of your subscription, please send us your account details as shown here:
Open the Settings app on your phone.
Tap your name at the top.
Tap Subscriptions.
Take a screenshot that shows the renewal date for Wolverine magazine.
When you send us that screenshot, we will create an account for you through our own database and assign a username that you may use on this website via your computer, tablet or smart phone. We will also add you to our mailing list for digital edition updates plus the seasonal football newsletters.
IMPORTANT: You must cancel your app purchase through the App Store (go to subscription settings) or you will continue to be billed by Apple based on your renewal date in its system. 
*Print and digital subscribers that purchased directly through Coman Publishing:
To access the digital edition of The Wolverine, you can log in with your account number directly from this website. Just click the cover on the home page to get started. If you do not know your account number, CLICK HERE to enter your email address for a reminder message.