The Wolverine 2022 Michigan Football Preview
Three ways to save when you preorder!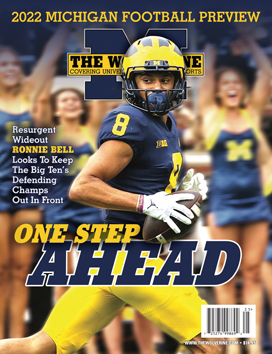 Please note: If you are an active subscriber to The Wolverine magazine, the preview is included in your subscription. Please do not order unless you want an additional copy.
NOTE: Preview should begin shipping July 18

Preorder your copy before June 27 to save $9!
The Wolverine Football Preview magazine, which features returning captain and graduate student wide receiver Ronnie Bell on the cover, delivers everything you need to know about Michigan football for the 2022 season. Included in this information-packed, 160-page magazine are:
An in-depth feature on what it will take for Michigan to defeat Ohio State and defend its Big Ten title
A roundtable panel of national experts assessing the Wolverines' chances this fall
A look back at the 1992 Michigan team
Profiles on wide receiver Ronnie Bell, running back Blake Corum, offensive lineman

Olu Oluwatimi

, defensive end Mike Morris, linebacker Junior Colson and cornerback DJ Turner
Comprehensive position group overviews
Opponent previews
Wolverines in the NFL
2017 recruiting class review
Recruiting targets for 2023
Plus, insightful columns from our own John Borton, Chris Balas and Drew Hallett — and much more!
Reg. $14.95 plus $4 shipping within the U.S.
Premium members of TheWolverine.com can get this special issue for only $9.95
(offer ends June 27, 2022)
Not a member? You can still save $4 with free shipping!
(offer ends June 27, 2022)
Magazine subscribers save even more!
This special edition is INCLUDED with a regular subscription to The Wolverine magazine.
Subscribe today!