The Wolverine Subscription 1-Year (Print & Digital)
1000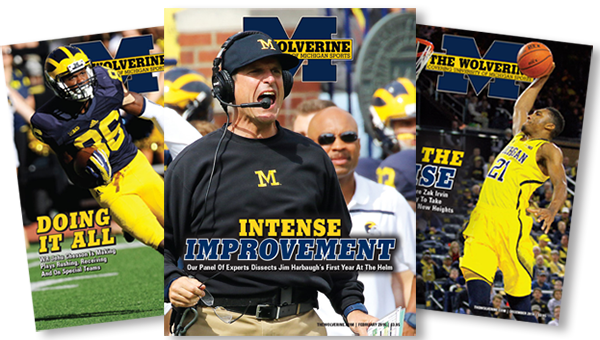 Subscriptions
Price:
52.99
USD
In stock
ADD "TAKE THIS JOB & LOVE IT! JIM HARBAUGH" to your subscription order for just $13.95 + FREE S&H*
(Regularly $27.95 + S&H — YOU SAVE OVER $20.00!)
*plus applicable sales tax if shipping to NC, MI and IN
Free Shipping available within U.S.
Books are in stock now!
The Wolverine covers all sports at U-M with an emphasis on football, basketball and recruiting.
Your subscription includes three parts:
The Wolverine magazine - published monthly for a total of 11 full-color issues annually. (June/July is a combo issue.) Issues are mailed via U.S. postal service.
The annual Michigan Football Preview Magazine (published in July) - a glossy, full-color, action-packed magazine (180 pages) full of great information about the upcoming season.
The Wolverine Now - our digital newsletter published during the season each Sunday and Thursday of a game week. Sunday's issue covers highlights of the game just played, and Thursday's issue previews the upcoming opponent. Additional newsletters are scheduled for a minimum 26 newsletters available via internet.
CLICK HERE FOR TWO-YEAR PRINT + DIGITAL SUBSCRIPTION: $101.99
FOREIGN SUBSCRIBER?
Consider our Digital Only subscription — just $49.99 for one year or $97.99 for two years.
Save from $35 to $88 per year over regular postal delivery depending on which country you live!