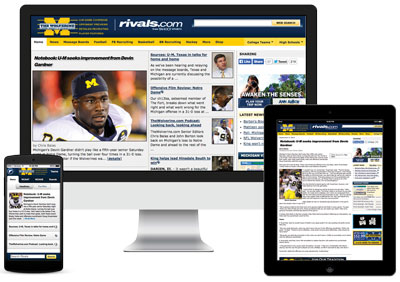 TheWolverine.com covers all Michigan sports with daily recruiting updates, news items, message boards, recruit videos, press conference coverage and more.
As part of the Rivals network, this is a separate subscription from The Wolverine magazine.  Want to try it out?  Get a 30-DAY FREE TRIAL with promo code:  BLUE30.
Enter Promo Code BLUE30 To Start Your Free Trial
Here are some helpful links to free content on TheWolverine.com:
TheWolverine.com Home Page  | Football Recruiting  | Basketball Recruiting
Football Front Page  | Scores  | Schedule  | Roster   | Depth Chart  | Statistics
Basketball Front Page  |  Scores  | Schedule  | Roster  | Statistics

(Click here to see the Mobile Website)

TheWolverine.com is now available as a mobile app for iOS and Android! Members of TheWolverine.com can log in to view premium stories and chat with their friends on the message boards. Download it today for stats, schedules, rosters, and recruiting profiles – everywhere you go!